Types of Rings
Background information about different types of rings
This is the most common type of wedding ring. Its setting is usually a stud or prong setting consisting of 4 to 6 wires. This type of ring is popular with investors in diamonds as well. This ageless model speaks to the imagination of all women. The prong setting is nice and open. This ensures a beautiful play of light in and on the stone. The stone is raised from the surface of the ring making it stand out even more.
This type of ring has three stones set next to one another, usually the middle stone is the largest of the three. The prongs of the studs are made with wire which accentuates the beauty of the stones. It ensures an optimal sparkle. The three stone ring represents past, present, and future. This icon of love symbolizes time spent together, and the times yet to come.
Side Stone Ring (Solitaire Pave rings)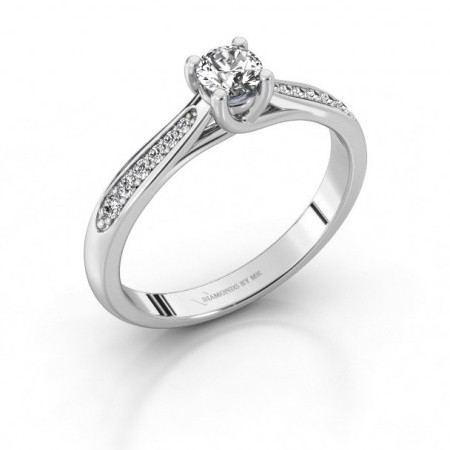 The side stones ring has multiple smaller stones placed set into the ring on both sides of the center stone. We advise using a colored center stone surrounded by smaller diamonds of a different color for a luxurious appeal. It will ensure that the middle stone stands out even more.
An eternity ring, or infinity ring, is set with nearly identical stones placed next to one another in a line encircling the band. There are multiple options when customizing your bespoke eternity ring. You can decide how many stones to use, which type of precious stone, and what color they should be in. This style of ring is also called an alliance ring.
Generally speaking, a cluster ring sports a center stone surrounded by a setting of smaller stones. These smaller stones may be arranged in multiple rows. Together, these stones create a sparkle reminiscent of a large diamond ring. The stones are often set using a web of wire, which is shaped to form tiny prongs for the various stones. This type of ring requires the work of a particularly skillful goldsmith. Another style similar to this is the Halo ring.
A pavé ring is closely set with multiple smaller stones. This ring can be worn alongside a wedding ring. Pavé rings are in high demand right now.
We offer signet rings for gentlemen as well. A signet ring is a true work of craftsmanship. All signet rings made by our goldsmiths are of outstanding quality.