Crafted, custom made jewelry, designed by you and made with love
Remco Broekhuis
Founder & CEO
'I have been a passionate goldsmith and jewelry designer for quite a few years now. DiamondsByMe was born out of love for the craft of goldsmithery. After successfully owning 2 jewelry stores and a beautiful design studio, I started looking into new business opportunities.
DiamondsByMe offers you the opportunity to customize any jewel to your own liking. Therefore, we are able to create personalised jewelry for each individual customer and/or budget. I am proud to say I have an amazing team of designers and goldsmiths. Each day, they passionately create thé most exquisite designs out of love for their profession.
This, combined with excellent customer reviews, makes me proud owner of DiamondsByMe.'
Linda Deng 
General Manager
Early 2019 I started a new challenge in my career as General Manager at DiamondsByMe. My CV is clear and dynamic and includes extensive experience at an international diamond company in Hong Kong which shall help me to successfully lead DiamondsByMe. I care about the performance within the company, whereby teams can work and grow together in a pleasant work environment. This way we go beyond the ordinary and go that extra mile for our customers.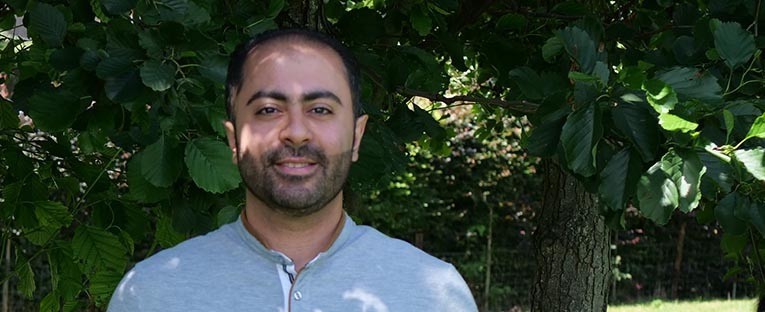 Hojat
Head of Design
'As chief design officer of DiamondsByMe I mainly focus on designing new and exciting jewelry. I once was a goldsmith but I realised early on that my true passion was design. I have lived in many parts of the world and therefore I was influenced by all types of styles. These experiences are reflected in my work during the design process. The artistic freedom to create a broad variety of designs, combined with the unique ability to design personal jewelry for our customers, makes working for DiamondsByMe truly unique.'
Walter
Head of Technical design
'As a visual/ graphic designer for DiamondsByMe, I create tools and applications which make it possible to turn a CAD design into beautiful images and animations.
My degree in graphic design and years of experience as a multimedia programmer are of great use. I also do research into new techniques which give our customers an even better view of the variety of jewelry we offer.'
Saskia
Commercial advisor & online marketer
'When I applied for a job at DiamondsByMe, I immediately got excited about working for a company that makes handmade jewelry. From day one I felt an artistic connection to the craftsmanship and I love hearing the wonderful stories of customers who had jewelry made by us for their special occasion. I am one of the first people customers talk to. I especially love to keep track of the process of customized jewelry. To see a design of a piece of jewelry come to life gives me the feeling I have during painting. It's wonderful to be able to contribute when it comes to online marketing, to help in promoting a company that wonderfully combines ancient craftsmanship with the latest techniques.'
Am
Creative Director
'As creative director I collect the right images for different type of campaigns, adverts and events. I also lead the team of creative designers and make sure customer needs are met. I do research on the latest trends and plan upcoming campaigns/ events on a daily basis.
Years of domestic and foreign experience have shown me what truly matters. DiamondsByMe has a great team of employees which works together closely and this gives me an energy boost every day.'
Godfried Brouwers
Countrymanager Germany
As Countrymanager with DiamondsByMe it is my responsibility to serve our German customers. I strive for the highest customer satisfaction. From our top quality jewellery to our advice per telephone, customer satisfaction needs to be felt in each department. Only if you are satisfied, will we be. Often I can be found at the production and design departments, to discuss our clients's special needs. Next to managing the German team, I often partake in answering our customer's questions by phone, because I think it's important to keep in touch with our customers.
Miranda
Consultant Jewelry
After my vocational training in Schoonhoven, I worked as a goldsmith for 18 years.
I use this experience, creativity and passion for the craft at DiamondsByMe every day when, for example, advising customers and colleagues.
It is always a great challenge to transform the customer's ideas into a design. Often these pieces are designed for a special moment or a special story, and it is wonderful to be able to create a lasting memory in the form of a unique, high-quality piece of jewelry. Every day it is a pleasure to work with a team of specialists dedicated to quality, durability and craftsmanship at DiamondsByMe.
Rowan
Goldsmith
As a goldsmith, I have an incredible passion for making jewelry. I graduated as a goldsmith from the vocational school in Schoonhoven in 2020. Already during my apprenticeship, I was able to improve my practical skills through additional work in the studio. At the vocational school, I came into contact with all kinds of new techniques. It is therefore very instructive, enjoyable and a wonderful experience to be able to use several of these new techniques every day when crafting our jewelry. Together with the team, I strive to create perfectly crafted jewelry, so that every customer receives a unique handmade piece of jewelry that he or she can enjoy for years.
Patrick
After years of working as a manager in retail, I started at DiamondsByMe in February '21 as a customer service specialist for the Dutch and German markets. My experience from Germany and the Netherlands in graphic design, purchasing - sales and customer care help me to advise customers optimally when purchasing a beautiful piece of jewellery.
Through my personal and precise approach, I strive daily with a great team for the highest possible service. Because I can work with this great team, brand and beautiful products, I get new energy every day and that's why I go to work with a smile on my face.